Dental Implants – Brooklyn, NY
Replacement Teeth that Mimic Nature
Dental implants are a relatively modern advancement that have quickly risen to become the golden standard of tooth replacement. At Brooklyn City Dental, our highly skilled team is able to restore the entire structure of missing teeth, including the roots, within the comfort of our own office. Not only does this mean you won't have to travel between specialists, but you'll also get to stick with the same, trusted providers that you started with. Schedule a consultation today to learn how we can provide you with a smile that looks as natural as it feels!
Why Choose Brooklyn City Dental for Dental Implants?
Start-to-Finish Dental Implant Care
CT scan for better treatment planning
Flexible Financing Available
Experienced & Multilingual Dental Team
What are Dental Implants?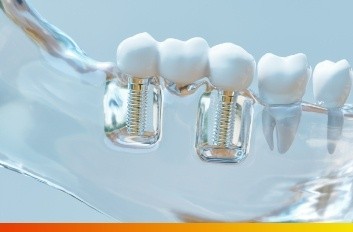 Dental implants are short, titanium posts that we can surgically place below the gumline and into the jawbone to reconstruct the missing root structure of teeth. Due to their biocompatibility, they'll naturally fuse with the jawbone through a process called osseointegration, providing a strong, stable, and unwavering foundation for restorations like bridges, crowns, and dentures to be attached to. Because they provide the bone with stimulation and blood flow, this treatment is able to prevent bone erosion that can lead to changes in facial shape.
The 4-Step Dental Implant Process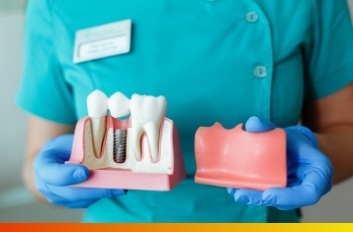 Consultation: During your consultation, our team will capture necessary diagnostic imaging, and conduct a visual assessment of your mouth. After that's complete, we'll speak with you about your smile goals. Based on our findings and conversation, we can help you determine whether this procedure is right for you. We'll also outline a detailed plan and cost estimate with a financial coordinator so you know exactly what you're committing to moving forward.
Surgery: Our skilled team is able to complete the entire treatment from start to finish, including the placement of your dental implants. After you have been numbed, we'll make a small incision in the gums that will allow us to secure the implant post(s) into the jawbone.
Osseointegration & Abutment: Over the next three to six months following your surgery, your implant posts will fuse with the jawbone through a process called osseointegration. Once this is complete, we'll attach a small, metal connector piece called an abutment to the post.
Attachment of Permanent Restoration: As soon as we receive your permanent prosthetics, and once your gums have healed around the abutments, we'll call you back in to attach your replacement teeth to the dental implants and complete your smile.
Benefits of Dental Implants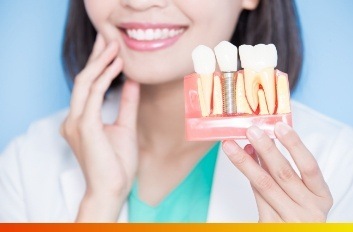 Dental implants offer a wide array of benefits that distinguish them from traditional prosthetics, including:
Ability to restore up to 80% of your bite power
Making eating and speaking easier than removable dentures
Preventing jawbone erosion and preserving natural facial contours
Can be used as a solution to a variety of tooth loss situations
Easy to maintain and clean
Natural appearance can be confidence-boosting
Who Dental Implants Can Help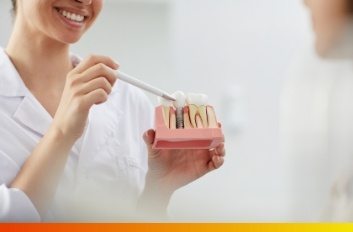 One of the primary benefits of dental implants in Brooklyn is that they can help patients in a variety of different tooth loss situations, whether you're missing a single tooth, several, or an entire arch of teeth. During your consultation, your dentist will outline a treatment plan for you, letting you know which of the paths we can take to provide you with a complete and functional smile.
Missing One Tooth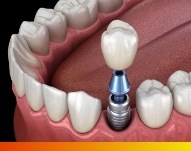 For a single missing tooth, we can secure one dental implant below the gumline and into the jawbone. Once it has fused with the bone, we can attach a dental crown to it to fill the gap in your smile.
Missing Multiple Teeth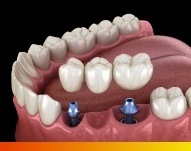 Instead of relying on a traditional bridge that requires you to alter your natural teeth, we can secure one to two dental implants situated at either side of the gap in your smile. This process is less invasive to your natural teeth and longer lasting.
Missing All of Your Teeth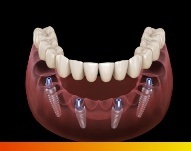 To restore an entire row of missing teeth, we can use single implants, implant bridges, or a complete implant supported denture. By using implants, we can eliminate any risk of shifting or moving while you speak and eat.
Understanding the Cost of Dental Implants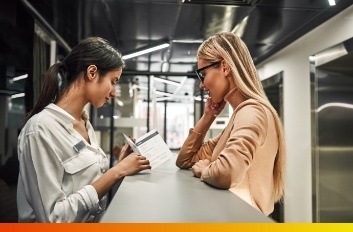 While it's true that dental implants have a higher up-front cost than traditional restorations, they offer countless priceless benefits that patients will agree makes them well worth the investment. Not only do they have the ability to last over four times as long as regular dentures and bridges, but they also look and feel natural, allowing you to go about your day-to-day life with more confidence. To help you fit the cost of treatment into your budget, we also offer monthly no-interest financing and have in-network providers with major PPO dental insurance plans.