Veneers – Brooklyn, NY
Transform Your Smile
Veneers in Brooklyn are a go-to cosmetic dentistry treatment when it comes to addressing multiple types of smile imperfections at once. Discoloration, slight misalignment, damage, gaps between your teeth—each of these flaws can detract from your overall appearance, leaving you with a less-than-memorable first impression. With veneers, our team is able to strategically conceal them, creating a brilliant and bright grin that you feel incredibly proud to let show. To learn whether this treatment is right for you, schedule a veneers consultation today.
Why Choose Brooklyn City Dental for Veneers?
Cosmetic Dentist with 30+ Years of Veneer Experience
High-Quality Dental Materials and Lab
Convenient Sunday Appointments
What Are Dental Veneers?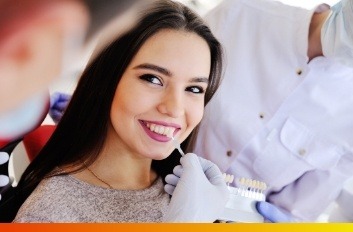 Veneers are very thin shells of porcelain – the same material as dental crowns. Each custom-crafted veneer conforms to the front of your tooth to provide a completely new dental surface that's free of imperfections.
Some people mistake crowns and veneers for the same service, but they serve different needs. While veneers cover the front of the tooth, crowns encase the whole tooth. Dental crowns are also thicker than veneers.
Generally, if you need tooth restoration that a dental filling can't fix, a crown is the best option because it's very sturdy and protects your whole tooth. Veneers are typically the favored treatment when you're looking to improve your smile's appearance.
Who Is a Good Candidate for Veneers?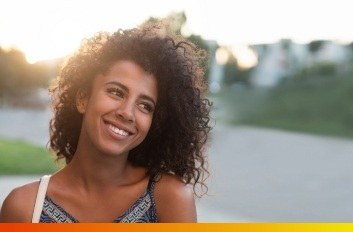 You might want veneers if you're looking to improve the appearance of your "smile teeth," the teeth in the front of your mouth. There are a few different issues that veneers can treat, including:
Chipped teeth
Broken teeth
Misshapen teeth
Too-small teeth
Gapped teeth
Severe tooth discoloration that doesn't improve with teeth whitening
Veneers can cover just one tooth, but they often look best when you cover all your upper front teeth. While mainly a cosmetic dental procedure, they can also help to reinforce your front teeth.
The Veneers Process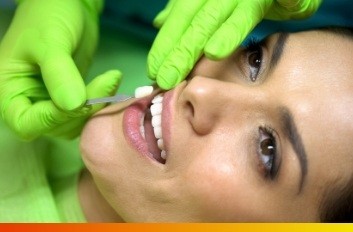 Before getting veneers, you need an oral health checkup and teeth cleaning. If you have any serious issues, such as cavities or gum disease, you need treatment for that problem before getting your veneers.The first part of the veneers process is tooth prep. That involves lightly etching your teeth to roughen their surface for better adhesion. If you opt for laminates, you won't need as much tooth preparation.
Next, you need a series of teeth impressions. A dental lab then fabricates individual veneers using your impressions. That usually takes about two weeks. You may receive temporary veneers in the meantime.
When you return to Brooklyn City Dental, you'll receive your new veneers. Once the veneers are fitted and approved by you,your dentist will expertly position and attach to your teeth using a special adhesive.
Overall, veneers are very durable and stain-resistant.
Smile Gallery