Invisalign – Brooklyn, NY
Address Orthodontic Issues Without Metal
It's never too late to address bite problems, misalignment, crowding, and gaps between your teeth. Each of these orthodontic issues can not only impact the overall look of your smile, but also your health, making brushing and flossing more difficult by creating nooks and crannies for bacteria and debris to hide in. At Brooklyn City Dental, we offer discreet, removable Invisalign clear aligners that apply a strategic amount of pressure to gently shift your teeth into their ideal position. Schedule a consultation today to learn more about Invisalign in Brooklyn!
Why Choose Brooklyn City Dental for Invisalign?
Certified Invisalign Provider
Additional Dental Financing Available
Multilingual Dental Team & Open Sundays
How Does Invisalign Work?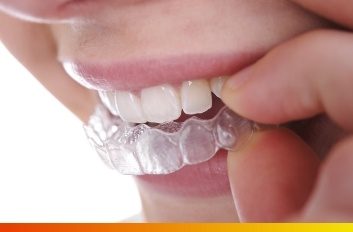 Invisalign is a type of invisible braces. The Invisalign system is a convenient and versatile way to straighten teeth without the bothersome hardware of braces. Using clear plastic aligner trays made of a flexible material, Invisalign offers adults and teenagers a discreet option for orthodontic treatment.
First, your provider at Brooklyn City Dental takes precise measurements of your mouth with 3D digital impressions. They run that information through specialized computer software to create a virtual treatment plan just for you.
Then, you receive a series of transparent, customized aligner trays. The trays gently and gradually shift your teeth as you wear them for 20-22 hours a day. You move on to a new tray approximately every two weeks!
Benefits of Invisalign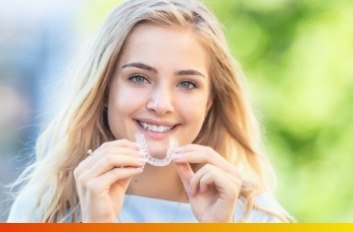 With advanced orthodontic technology, Invisalign offers numerous advantages over traditional metal braces, such as:
Improved aesthetics due to clear trays that don't distract from your smile
Minimized risk of damage to your tooth enamel from metal brackets and wires
Increased comfort from smooth plastic trays without sharp edges
Faster treatment time — typically 9-12 months as opposed to several years
Since the trays are removable, invisible aligners allow you to enjoy the foods you love without interference. That also means you can clean your teeth thoroughly and not have to worry about anything getting stuck in your braces.